Mexico, the third largest country (in geographical size) in North America, has countless opportunities for travelers. Mexico travel in general is very diverse, as attractions, people, and even the terrain and wildlife vary greatly from place to place. Listed below are some of the best fishing vacation destinations in Mexico, all of which offer different types of fishing travel.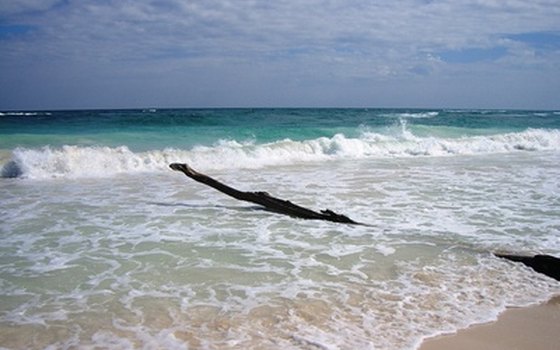 Ascension Bay Fly Fishing Vacations in Mexico
Ascension Bay, located on the eastern side (Caribbean coast) of the Yucatan Peninsula, has some of the best saltwater fly fishing in the world. Flats fishing for bonefish, permit, tarpon, snook, and other gamefish is remarkable in the Sian Ka'an Biosphere, which envelopes and preserves much of the bay and the surrounding areas; the beautiful scenery in and around Bahia de la Ascension is unrivaled. This part of Southeastern Mexico is flat, with shrub and jungle, and beautiful palms lining the Caribbean coast. Mangrove channels and creeks provide excellent tarpon fishing in the bay, and bonefish and permit are found on the countless flats, located throughout its waters, just inshore of the second largest barrier reef in the world. For saltwater fly fishing, Mexico's Ascension Bay is an unbeatable vacation destination.
Baja Fishing Vacations in Mexico
The Sea of Cortez (Gulf of California), between the Baja California peninsula and the Mexican mainland has arguably the best offshore fishing in the world. Blue marlin, black marlin, striped marlin, sailfish, wahoo, dolphin, and yellowfin tuna are all found in its warm offshore waters, and closer to shore, roosterfish, jacks, snapper, mackerel, and other popular gamefish abound. Baja California is an entirely different and unique Mexico fishing vacation destination; the land is pure desert, with shrubs, palms, cacti, and hilly, rugged, arid terrain. Numerous charter boats are available out of marinas in the settlements on the peninsula's east coast with the gulf, especially in Southern Baja, in Los Cabos and in the towns just north of this populous municipality.
Cozumel Offshore Fishing Vacations in Mexico
Cozumel, an island off of the Eastern Yucatan, has access to some of the best offshore fishing in the Caribbean Sea. Blue marlin, white marlin, sailfish, wahoo, dolphin, and yellowfin tuna thrive in the warm waters just minutes from the island's marinas. Cozumel is itself a beautiful island in the Caribbean, and its terrain is reminiscent of that of any island in the Bahamas, as it too has beaches that are decorated by beautiful palms and white sand that border clear blue and green waters.
Bass Fishing Mexico Vacations at Lake El Salto
For serious bass fishers, Lake El Salto, near Mazatlan in Western Mexico has some of the best angling for monster fish in the world. A large lake with some of the fattest largemouth bass imaginable, El Salto is a classic angling lake, with lagoons and coves that are prime areas to fish for largemouth year round. Bass fishing techniques here are no different than they are elsewhere, but fishermen are advised to leave some of the smaller bass baits at home; the fish in the lake are quite large on average, and they have no difficulties devouring even the largest baits one would consider casting. El Salto is one of the best freshwater fishing travel spots in Mexico, and among the top bass fishing destinations in the world.
The above vacation destinations in Mexico are top places for fishing travel. Anyone who loves the popular outdoor recreation is sure to have a blast at any of these angling hotspots.
---
What type of beard oils would you buy?
Take a look at how to stop cats from spraying, it is really easy to solve this problem.
This new and best gun safe are much better than before.
Read about magic card tricks that are newbie friendly.
Find the best cordless drill to buy in November.
Read about what is the best air purifier to buy for a professional.